The power of partnerships
Arab philanthropy is supporting communities impacted by the coronavirus pandemic
From emergency funding for education to providing meal kits to those impoverished by the pandemic, Project Inspired philanthropists have been on the frontline of the response to Covid-19.
Across the Arab region, restrictions aimed at curbing the spread of the virus have compounded existing gaps in employment, education and income, and left low-income communities at risk.
The pandemic has also sparked a multitude of new challenges, prompting regional foundations to fund new partnerships and relief efforts aimed at helping those worst affected by the crisis.
Emirati philanthropist Abdul Aziz Al Ghurair, chair of the Abdulla Al Ghurair Foundation for Education (AGFE) in late April unveiled a Covid-19 Online Learning Emergency Fund. The fund will support 6,000 at-risk learners in Jordan and Lebanon with access to internet, laptops and tablets, as well as digital content and online tutoring, delivered through partnerships with local providers.
The initiative falls under the umbrella of the existing Abdul Aziz Al Ghurair Refugee Education Fund, which was launched in 2018 to help refugees in Lebanon and Jordan, and conflict-affected youth in the UAE, access education.
Dubai's Easa Saleh Al Gurg Group, the corporate umbrella of the ESAG Charity Foundation, has also been generous with its response to the crisis. In March, the group announced a $3.5m donation to the emirate's education and health authorities to bolster distant learning initiatives and efforts to curb the spread of the virus. It has also waived rent payments for tenants in residential buildings owned by the company.
Meanwhile, in Palestine, the Munib R. Masri Development Foundation has provided $1m of funding for food and medicine for the Palestinian people, and to assist the government's pandemic response.
Creative calls
In Tunisia, the Kamel Lazaar Foundation (KLF) has sought to support new and established artists, and to leverage their creativity to deliver wider social and cultural impact.
The organisation, a leading promoter of Arab art through innovative platforms and installations such as Ibraaz, Jaou Tunis, and Utique Impact Place, launched a relief fund for artists. Culture Solidaire was an open call for Tunisian creatives to apply for grants to help complete projects that had been disrupted by studio and gallery closures, or to meet rent and food bills as earnings shrink.
There were more than 300 applications, of which 59 projects were selected and 120 artists provided with grants, starting from $1,000 and in some cases up to $15,000.
In a separate project, called Heartbeat, the KLF invited 35 established Tunisian artists to produce a piece of work about their time in confinement. These are currently being collected for a sales catalogue and the proceeds will be used to pay for food parcels for 30,000 low-income Tunisians.
"With Culture Solidaire, artists were recipients of support. Our aim with Heartbeat was to turn them into contributors of support by leveraging their creative talents through a multiplier effect that would result in food aid for the most vulnerable in society," said Lina Lazaar, vice-president of KLF.
The foundation has also donated to support hospitals in Tunisia purchase personal protective equipment and other medical supplies.
Online solutions
The A.M. Qattan Foundation, a Palestinian-focused arts and education organisation, has used the pandemic to rethink how it shares its performers' work and how it can continue to deliver cultural experiences while theatres and galleries are shut.
Among its projects, the foundation's Mosaic Rooms, a centre for contemporary Arab culture located in London, launched Future Threads. This is a free online programme featuring artists, curators and thinkers from the Arab region and beyond, sharing their responses to the pandemic and its impact.
Unveiled in early June, the initiative will run until September, but The Mosaic Rooms' acting deputy director Sandra Ross said there was now a plan to launch more online events alongside physical exhibitions, as a means to reach new and international audiences.
Meanwhile, in Palestine, the foundation's Educational Research and Development Programme (ERDP) has moved much of its teacher training provision onto Facebook, to ensure it can still reach trainees despite movement restrictions.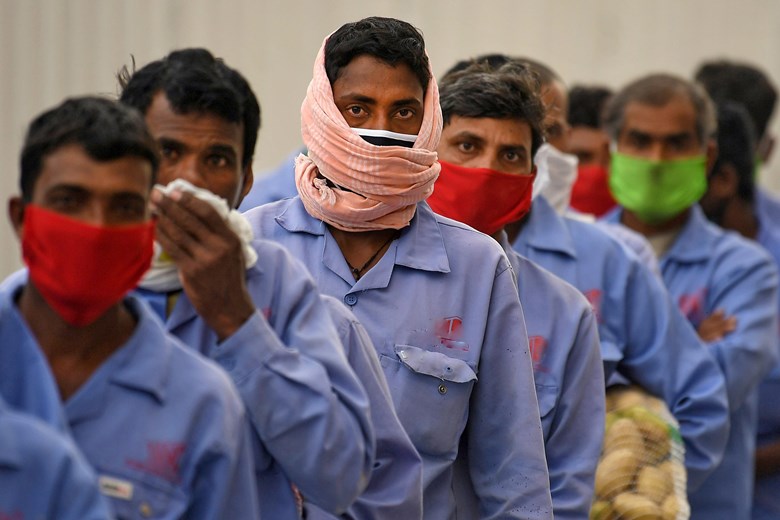 In Bahrain, the Rashid Al Zayani Charity Foundation launched an initiative called Soup for the Soul, taking meal portions from local restaurants and delivering them to migrant workers left unemployed by the pandemic.  Of the course of a month at the start of the crisis, more than 40,000 bowls of soup were distributed to individuals around the kingdom.
Omar Ayoob, chief executive officer of the Rashid Al Zayani Charity Foundation, said: "We realised early on that many people had suddenly lost jobs due to the crisis, and so we quickly launched the Soup for the Soul initiative. Restaurants would provide us with soup, and we went around distributing it from house-to-house, compound to compound."
The foundation also provided 12 vehicles to the Bahrain government to assist with its response and distributed some 500 food parcels to local families during the month of Ramadan. Containing items such as pasta, oil, sugar, and flour, the boxes were targeted at the homes of taxi drivers and others who had no income during the lockdown period.
Collaboration for impact
In early April, the Sawiris Foundation for Social Development (SFSD) donated $6.37m to curb the spread of the virus in Egypt. Of this, $2.5m went to support low-income workers and the remaining $3.8m to bolster government-led prevention efforts.
In June, the Sawiris Foundation announced a partnership with the UN Refugee Agency (UNHCR) to provide support to more than 2,500 refugee families living in Egypt for a period of six months. The commitment will ensure monthly UNHCR cash grants are delivered to vulnerable refugees who have lost their livelihoods due to the pandemic and have either been - or are at risk of being – evicted.
Samih Sawiris said the foundation recognized the importance of including refugees in relief programmes because they are "among the most vulnerable populations". He added: "We are certain that through this collaboration we can give some hope and needed assistance to these families."
The SFSD has also joined with Egypt's Alex Bank to launch Ebda3 Men Masr, an online retail platform for handicraft products to help the country's creative sector, badly hit by the closure of retail operations, to reach new customers and to protect jobs and local traditions over the longer-term.
How to support the global pandemic response
Countries and communities worldwide have launched campaigns to slow the spread of the coronavirus, and to stave off the social and economic challenges caused by the pandemic. Here are some ways you can donate.
COVID-Solidarity Response Fund
The COVID-Solidarity Response Fund was launched by the World Health Organisation to support its efforts to track and understand the coronavirus, support patients and frontline health workers and accelerate the development of a vaccine and treatments.
PowerOf
PowerOf is a new global platform aiming to connect people who want to make a difference with frontline organizations that are addressing the impacts of Covid-19. Projects and fundraisers are filed by geography and interest, and people can either donate or sign up to volunteer.
YallaGive
UAE-based platform YallaGive has a dedicated page for Covid-19 appeals. You can give directly to regional branches of international NGOs such as Médecins Sans Frontières (MSF) as well as other organisations supporting communities in the Middle East.